The International Group of P&I Clubs (IGP&I) held its Conference for P&I Correspondents at the Queen Elizabeth II Conference Centre in London between 24 and 26 September 2017. IGP&I reported it was the most successful of the five conferences to date with about 560 correspondents from 100 different countries attending along with various staffers from the thirteen P&I clubs that form the International Group.
Our colleagues Ricardo Martins and Jorge Tavares, from Proinde's offices in Santos and Rio de Janeiro, respectively, attended the Conference that is held every four years for networking and sharing of knowledge between the P&I clubs and their correspondents worldwide.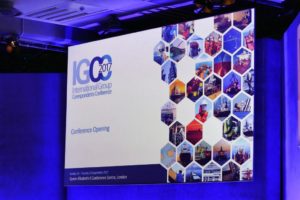 The Conference took two days and the delegates could enjoy a reception cocktail at the site of the conference and a buffet dinner at the headquarters of the prestigious International Maritime Organization – IMO, which overlooks the River Thames on the Albert Embankment in London.